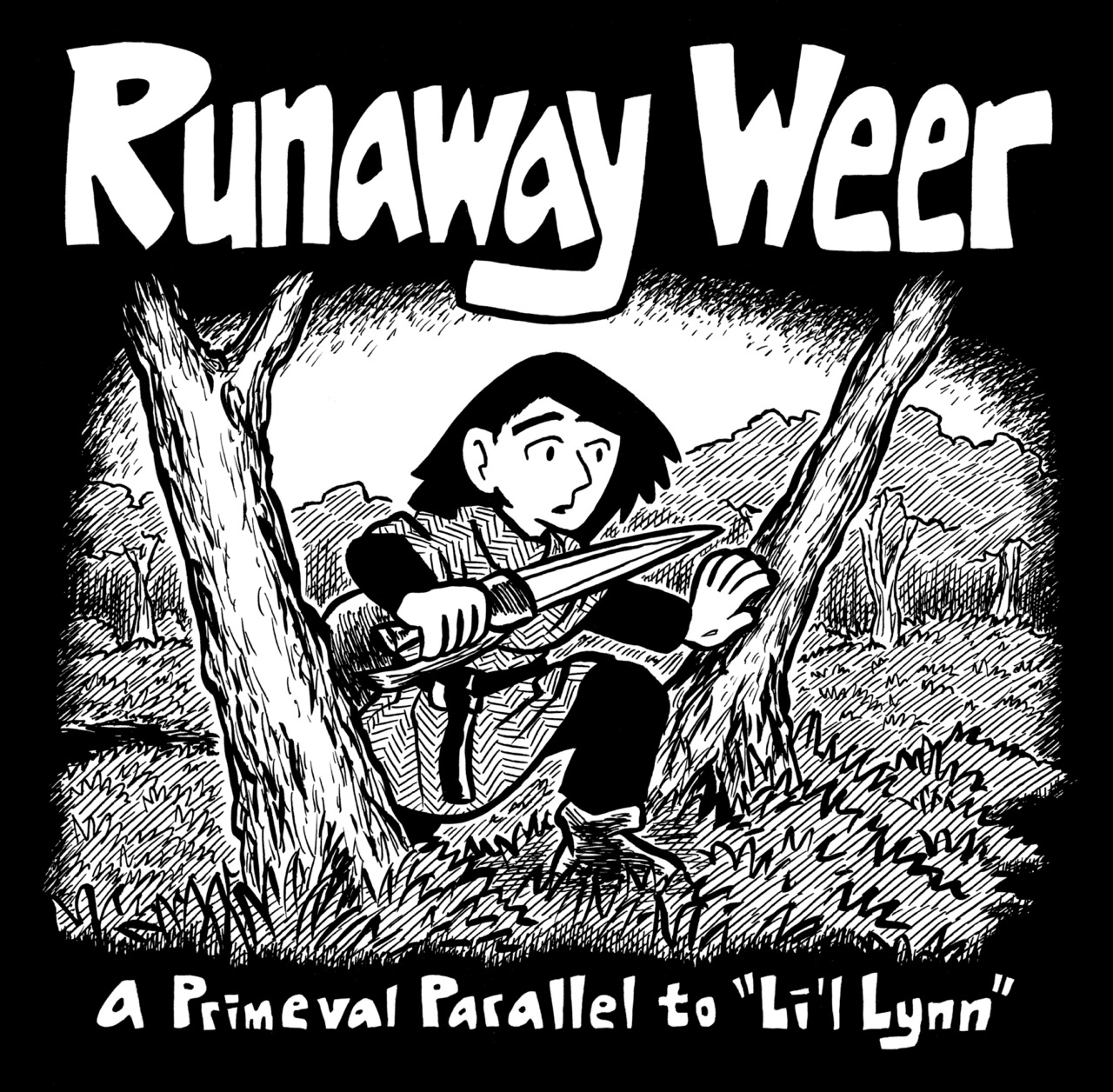 The ragged Edges of three Civilizations are sewn together by Lives coming apart at the Seams:
Aspynn Weer the wayward Leader and Lindynn Hare the faithful Follower
risk All to gain Any, in this Tale from the World's Youth, of she called Runaway Weer.
Click You on the Figures above or the Clauses below
for Art and Stories from this Graphic-novel Series.
Take this trailer-esque tour through the horrors and wonders
wrought in our own primeval Earth.
Research the personal journey and technical process
which brought this tale to life.
---
---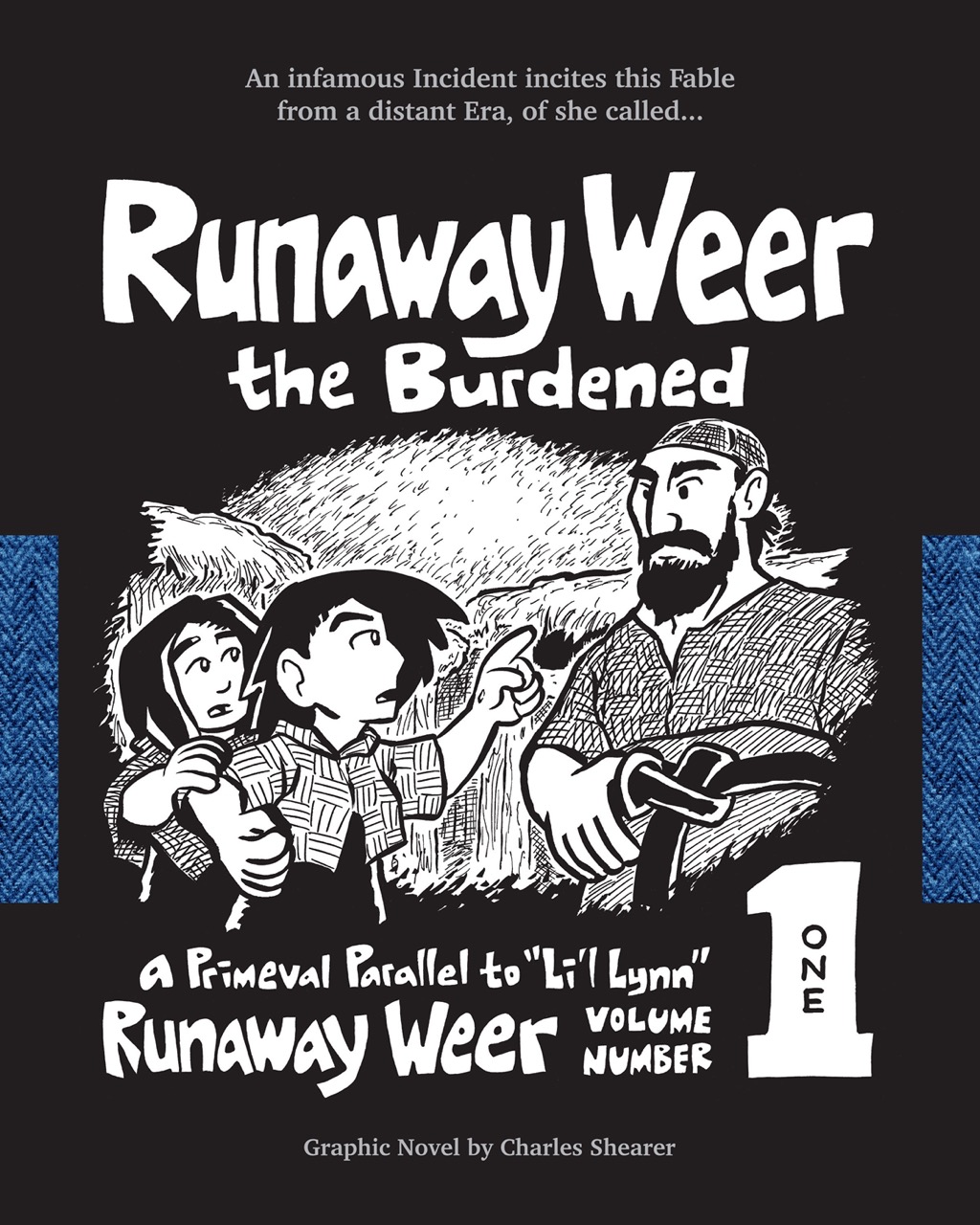 Close-est Companions and best Friends since beyond the Reach of Memory,
Aspynn and Lindynn face both an un-precedented Challenge that may temper them for their Lifetimes
and a seething Grudge that threatens to shatter far more than just a Friendship.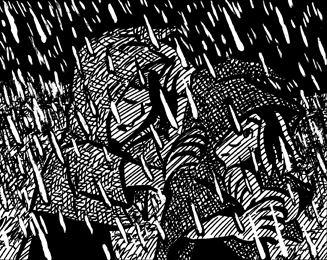 Vol. 1 is 82 comics pages composed thus:
The Founding of a Town
IN EXILE, or: Not Ever to Return

The Building of a Bridge
IN CUSTODY, or: A Sense of Direction
The Playing of a Tune

The Making of a Friend
IN UNIFORM, or: Colossal Ambition
The Teasing of a Name

The Breaking of a Fever
IN PANIC, or: Upon a Point of Iron
The Sewing of a Seam

The Reciting of a Rite
IN DEFIANCE, or: Lyrics of Law
---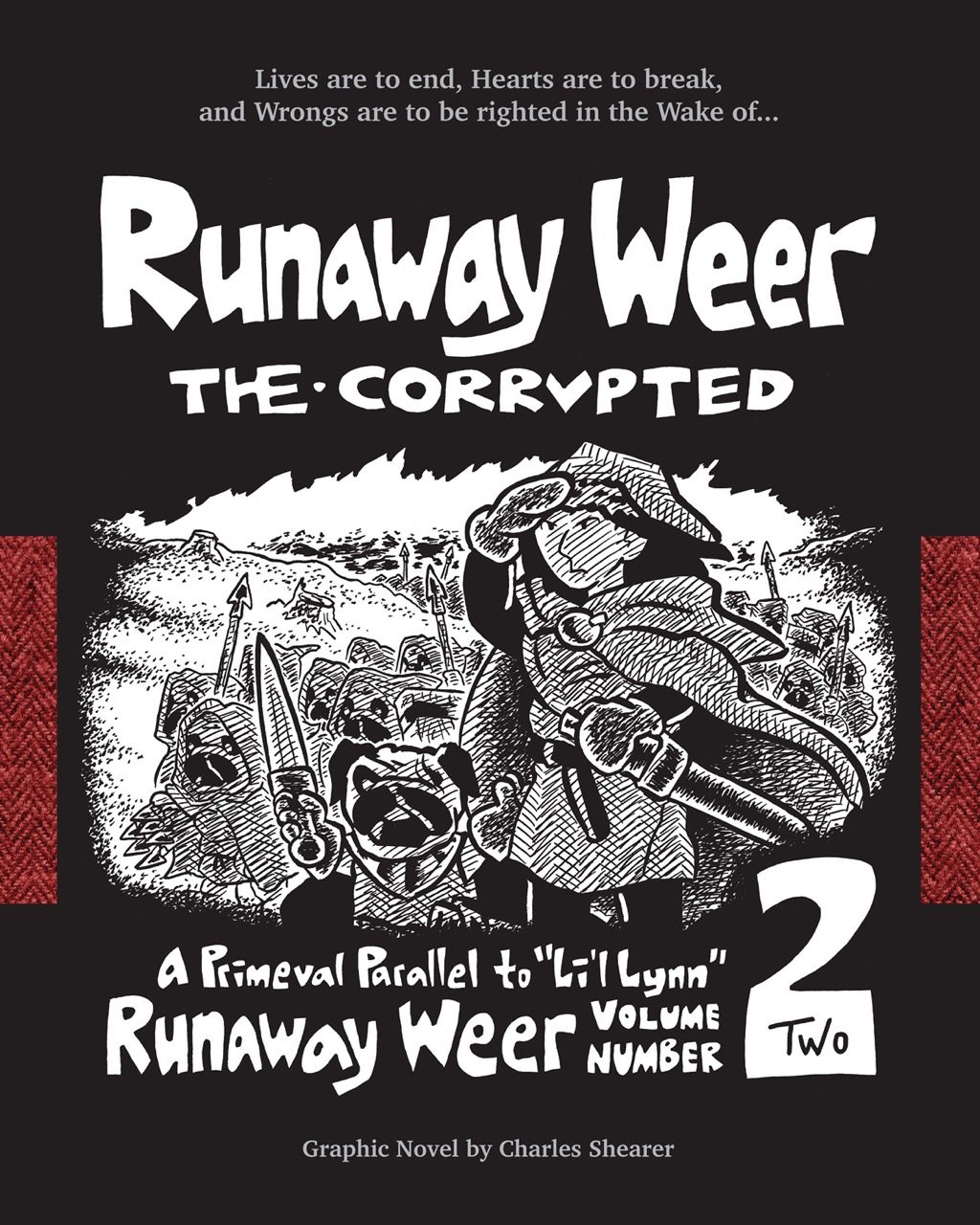 The Old is destroyed, wrecked, sundered! and what survives of Aspynn and Lindynn
is made anew... and apart. Herein are recorded the deep-est Sorrow, the bloody-est Violence,
and the warm-est Adoration of a Hero to Some and a Villain to Others.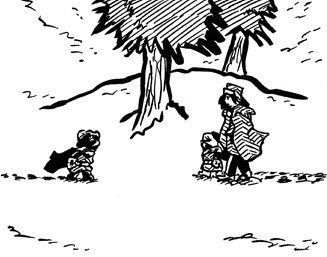 Vol. 2 is 82 comics pages composed thus:
The Waiting of a Night
AFOUL, or: My Mother's Daughter
The Purging of a Heart

The Passing of a Moon
AFIELD, or: A Stranger in the Family
The Striking of a Deal

The Botching of a Hunt
AGHAST, or: The Emperor's Secret Weapon

ANEW, or: To Whom to Aspire
The Knowing of a Face
---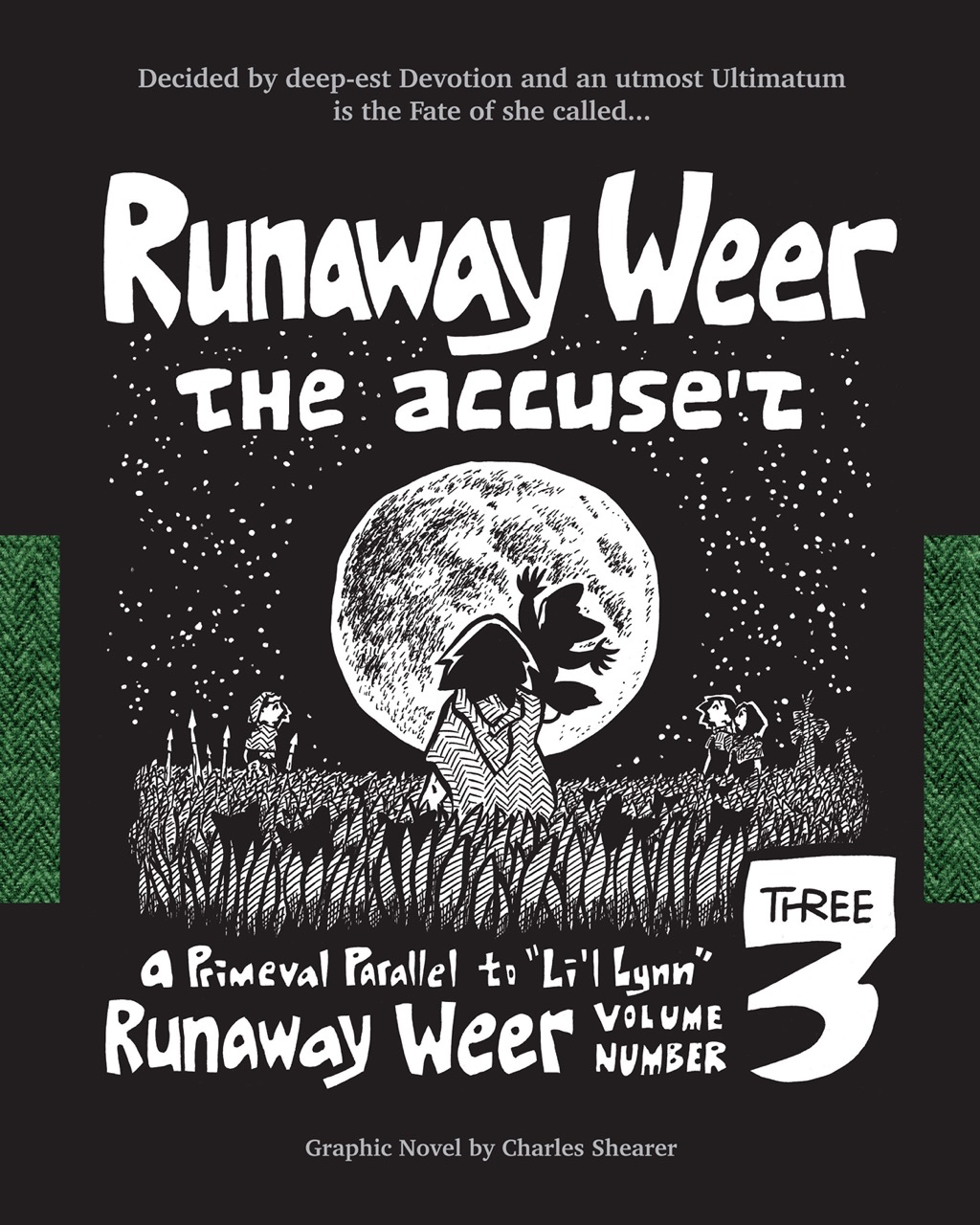 A weary Body, a guilty Conscience, and a troubled Mind form the thin-ly bound Pieces of she
whose sordid Past pursues her across familiar Water, over un-known Land, and from within her Self.
Is it Justice of Madness, that the Way to mend her Life is to end it?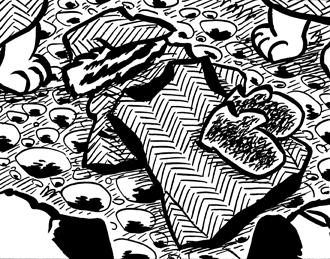 Vol. 3 is 82 comics pages composed thus:
The Darkening of a Day
SPATIALLY WONDROUS RHETORIC
The Shaking of a Faith

SPECTRALLY GRACIOUS RECEPTION
The Starting of a Search

DARKLY LUMINOUS RELIC

FATEFULLY PORTENTOUS RESOLUTION
---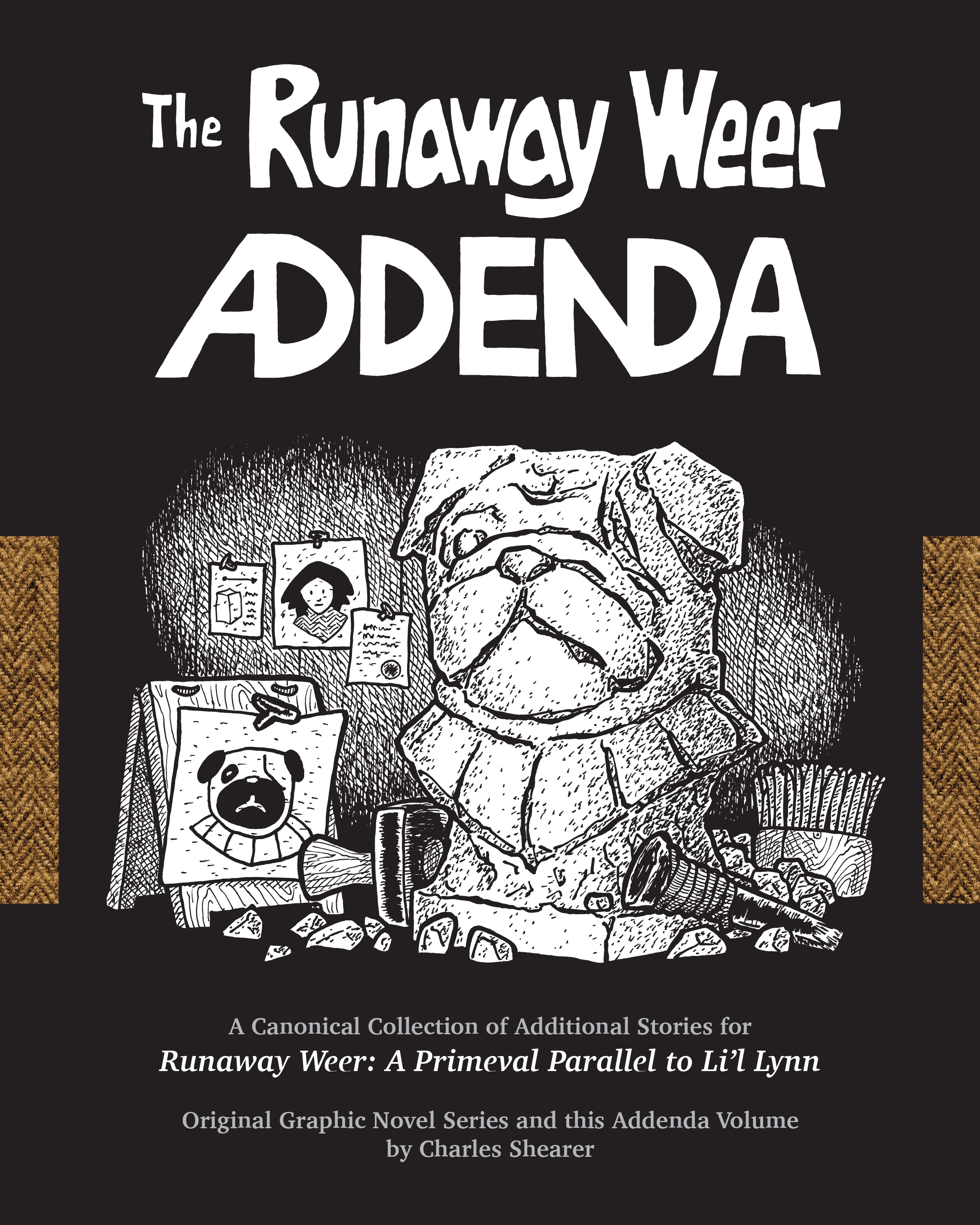 The "Runaway Weer" Series is enriched with these Additions to the Canon,
occurring during and after the three numbered Volumes.
As well as Stories in a Style typical for the Series, there are also
collaborative Works by Praefortis (who rose from Commandant to Governor)
and Lindynn Hare of Ashwood.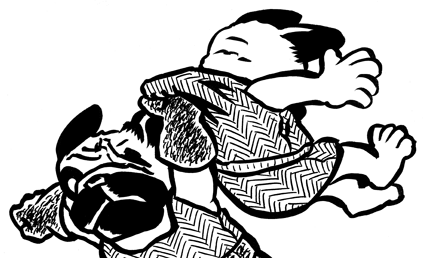 The Addenda volume is 101 content pages of:
Dilemma of Imperial Sculptor
— Pantomime comic —

The Spinning of a Speech
— Addendum to vol. 1 of the series —

Winter of Three Emperors:
Heartfelt and Terrifying Historical Drama,
With Slight Embellishment of Facts
— Addendum to vol. 2 of the series —

The Whispering of a Wish
— Denouement to vol. 3 of the series —

Most Factual and Sagacious Treatise on Combat:
For Mandatory Study Amongst Military Personnel
— Handbook as supplement to series —