Penciling and Inking Tests for
The art side of pre-production for "Runaway Weer" began in 2014 April and entered full production during that same month. The initial pencil-testing was concerned with the anatomy and clothing of Aspynn and Lindynn, giving little attention to facial features. At this point, color was used only for the sake of distinguishing bodies from garments from text; "Runaway Weer" was designed for binary black-on-white, nor for color. Aspynn and Lindynn's garments were mostly a combination of medieval European and Joseon-era Korean ("Hanbok") styles, because Charles Shearer himself tends to wear his own blending of the two.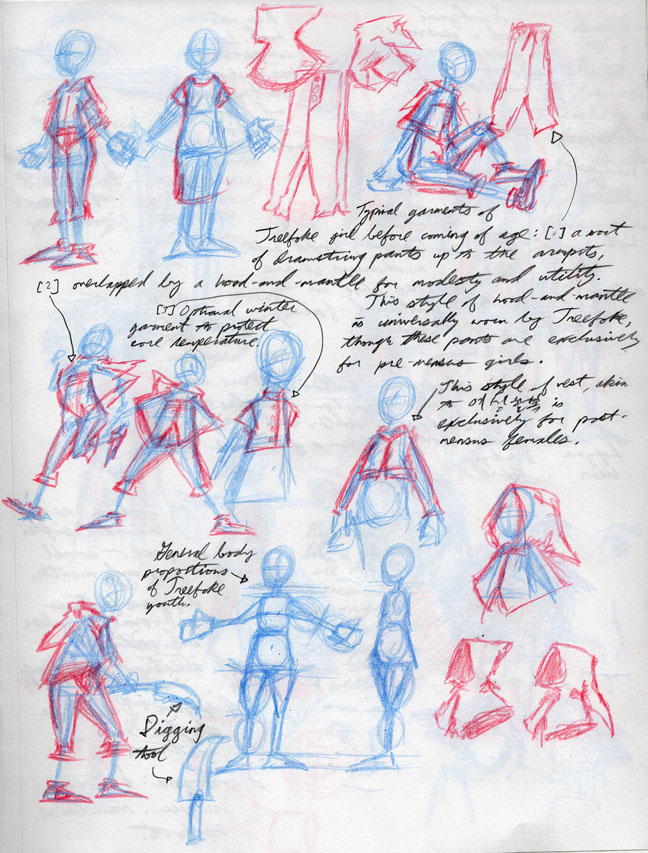 No ink touched the boards until all of the pencil-work had been completed for the three volumes, meaning that even though the story and plot were finished and tangible by then, the final look of "Runaway Weer" was yet undecided. Even the exact facial features of the characters had not yet been finalized, but rather, were only vaguely suggested via placeholder marks for expressions, looking much like "Li'l Lynn" faces. While awaiting a trip to South Korea, to retrieve inking brushes and dip-pens that had been left there, Charles did some ink-testing with inferior tools that were presently available. These experiments with facial features and hair texture/value unexpectedly ended up adjusting the ethnicity of Aspynn and Lindynn; as they would be part of one ethnic group in a primeval setting, it stood to reason that they would have similar traits, but from a narrative standpoint, they also needed to be visually distinct from each other.