The "Why Have You Done This?" of
The original graphic novel version had spent almost eleven years in production, hiatus, and editing. During the months-long process of trying to get the finished book published, Charles began composing a prose version of the story. Since a scene-for-scene direct adaptation would be pointless and much would be lost in translation, Charles instead sought to take full advantage of the change in medium; as much as possible would be different between the original version and the new one, while also making them canonical companions to each other.
Following a half-year interval in which other projects and diversions were pursued, Charles returned to what would become "Li'l Lynn Tells It Herself: A Novella-zation," with a mind to have it available at the next Buffalo Zine Fair. This five-month deadline was very short notice, considering that Charles is generally accustomed to aging his projects for a long time. (For instance, the third volume of "Runaway Weer" was finished before the first one had even been scanned, and "The Answer Lies in Oz" was written eight years before it was ever shown to a publisher.) The second phase of production included making the artwork, the challenge of which was to do so akin to how children would (e.g. crayon on paper, chalk on sidewalk, color-paper cut-outs, etc.), while still making the images publishable, hence the children Lynn and Ashley's distinguishable styles were incorporated into Charles's own. This mixed-media approach also served as experimentation for how the artwork of Charles's other projects in development or production (not yet announced on the website) might end up being handled with a bit more variety or complexity than that of previous ones.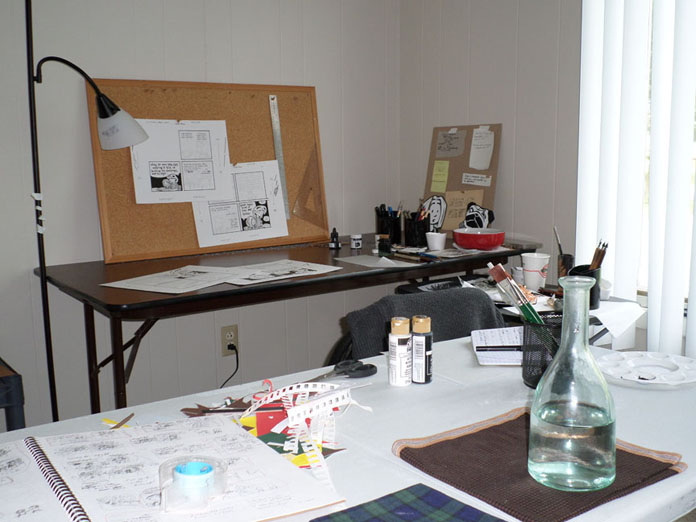 ---
---
"Li'l Lynn Tells It Herself: A Novella-zation" © 2017 by Charles Shearer.
ISBN 978-0-9984798-0-4 (First edition). Novella, Young Adult Fiction.
Production: 2016 December and 2017 June in Amherst, NY.
Personal: charlesjshearer (at) gmail (dot) com. Business: theauthor (at) charlesshearer (dot) info.