A Long-Awaited and Nearly Anticipated Graphic Novel
Written and Pictured by Charles Shearer
featuring:
Life is just fine for little Lynn Herr... until friendship and fulfillment rear their ugly heads. Will she allow them into her heart, or keep being happy, instead? This question and some others might be answered in this indeed very questionable tale of how fun it is to be utterly at the world's mercy.
SINCE YOU'RE ALREADY HERE...
why not peruse some superfluous supplemental material?
Withstand an exactingly crafted
piece of promotional frankensteining.
Get educated with authentic historical and artistic
information about this fictional work.
Suffer through an arguably-not-very-spoilery
abridgment from early in the book.
Letters for Li'l Lynn
Humor yourself by writing a letter to Li'l Lynn!
...if you're cool enough for that sort of thing.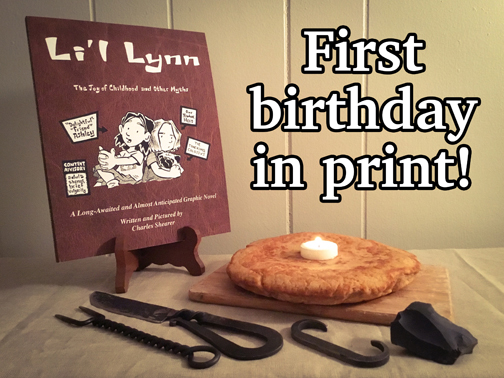 ---
---
"Li'l Lynn: The Joy of Childhood and Other Myths" © 2017 by Charles Shearer.
All rights reserved by the publisher, who may be contacted by e-mail address(es) at bottom.
ISBN 978-0-9984798-5-9 (Paperback edition). Graphic Novel, Young Adult Fiction.
Art production: 2006 May in Savannah, GA; 2006 August, October - December,
2007 March - December, 2008 January - April, October, December, 2009
January - February in Atlanta, GA; 2014 October and 2016 July in Decatur, GA.
Personal: charlesjshearer (at) gmail (dot) com. Business: theauthor (at) charlesshearer (dot) info.