Impromptu Drawings and Notes as
Book Signings
Charles is glad to sign and draw on your own personal copies of his work,
whether at a public market, private event, or if approached elsewhere.
Below are some recorded incidents of this phenomenon:
First ever "Li'l Lynn" book signing.

For a member of the Buffalo Ukulele Club,
hence the instrument's appearance.

Charles himself had taken up ukulele
during his years in South Korea,
where the instrument is fairly popular
and has no 'novelty' connotations.

Curiously, this copy of the book was first
personally distributed to Gutter Pop Comics
in Buffalo, then purchased by the customer,
then brought to Charles's home for signing,
then brought back to the customer.

(It was hopefully not subsequently
returned to the shop for a refund.)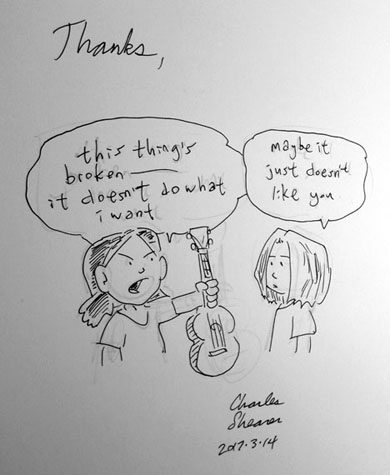 Second "Li'l Lynn" book signing,
this time of a fictional aunt
for an actual one.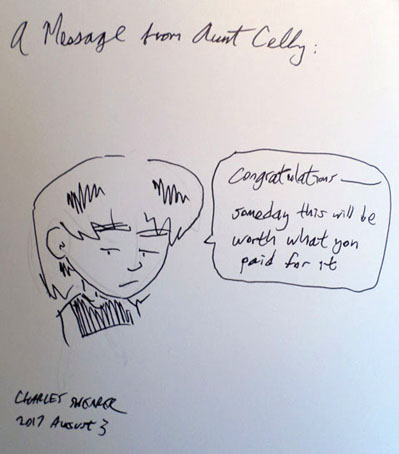 First ever "Runaway Weer the Burdened"
book dedication.

Done at Western New York Book Arts Center's
Last Minute Panic Holiday Marketplace,
a two-day event in downtown Buffalo, NY.

Asked to draw a cat, Charles allowed
Peppy Young Lab Assistant Kittyson
to make an appearance, on condition that
Lab Master would babysit supervise.

The recipient was a girl of only five years of age,
so there is no telling what she might think
of such an iron age fertility scandal as
is featured in the book itself.
First ever signing in Colorado,
this time for an avid young reader
during the 2018 holiday season.

Charles included "Yunoo Hearing Things,"
since the recipient is known to enjoy
reading kid-friendly 'scary' stories.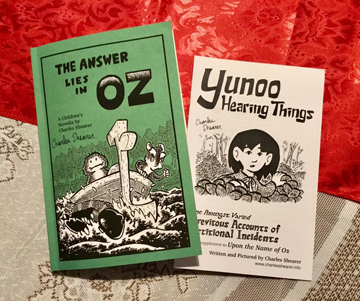 ---
---